Questyle CMA600i DAC/Headphone amp/Pre amp (Ex-display)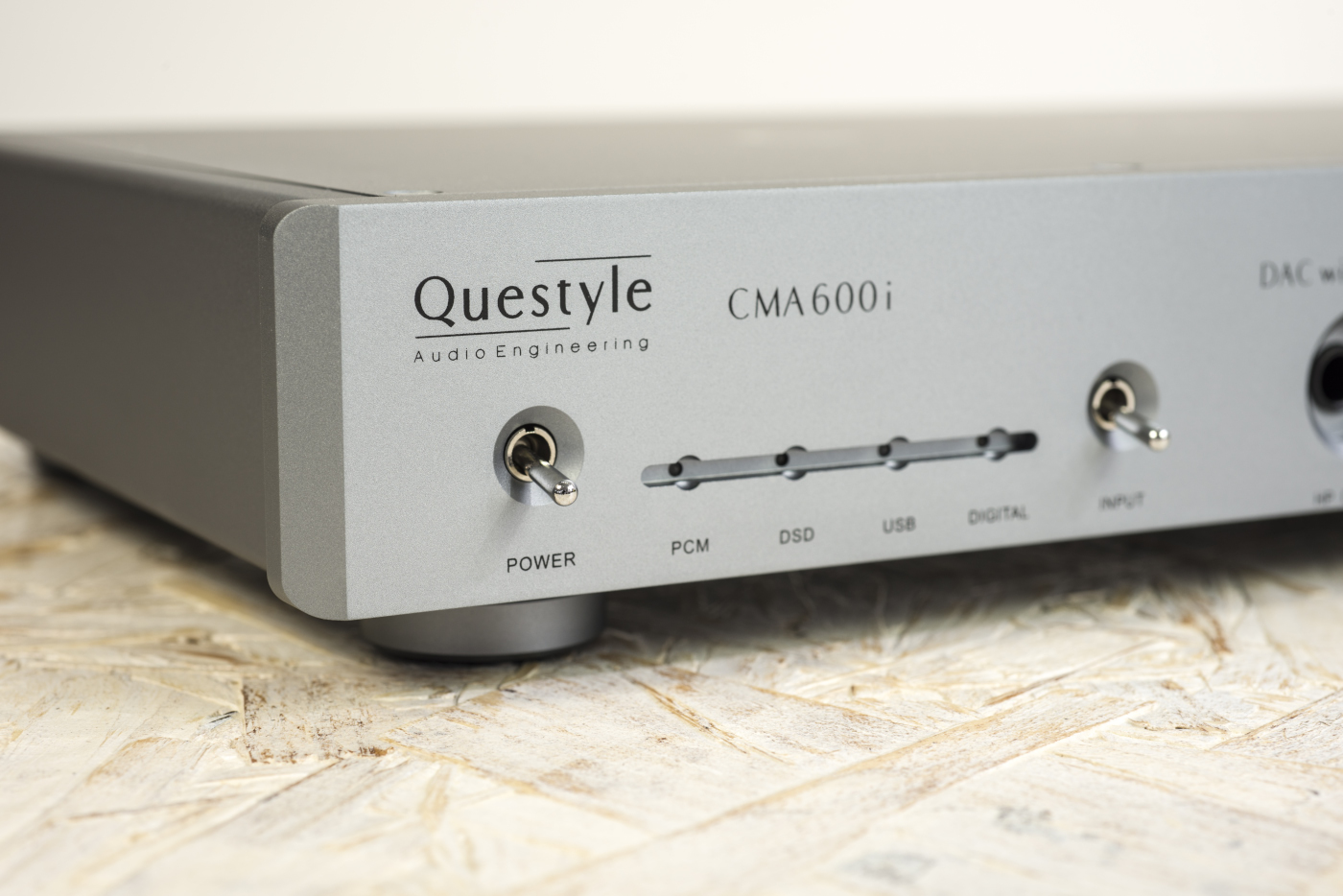 Questyle CMA600i DAC/Headphone amp/Pre amp (Ex-display)
Our ex-demo Questyle CMA600i has been updated to latest specification, it is in excellent (as new) condition and is available here with an excellent discount.
sold out
The fully featured all-in-one device
The Questyle Audio CMA600i headphone amplifier section follows Questyle's patented "Current Mode Amplification" design used in their flagship headphone amplifier, the Questyle Audio CMA800R. This model has impressively low 0.00034% distortion, with up to 950mW on tap, for low impedance headphones. The CMA600i doesn't shy away from the heaviest loads either, with a 4-pin balanced XLR connection to maximise sound quality.
The CMA600i utilizes a USB port that adopts a unique 3X Clock structure. This ensures a proper sync with the premium AK4490 32-bit DAC chipset from AKM. The chipset includes a newly developed switch capacitor filter "OSR Doubler" that greatly reduces sound degradation from noise shaping, achieving a flat noise floor up to 200kHz! The AK4490 chip obtains first class sound performance by also reducing jitter and pre-ringing to undetectable levels.
A premium DAC section with True DSD
Unlike other DACs that claim DSD support, yet in actuality provide DoP (DSD over PCM), the Questyle Audio CMA600i accepts the DSD bit-stream directly from your computer, bypassing your computer's audio processing and digital volume control as well as the Questyle Audio CMA600i's digital filters, to provide True DSD, the way it was meant to be heard.
Support for the highest quality formats
The Questyle CMA600i is designed to grow with your music collection. As well as supporting standard digital files via USB, toslink or coaxial SPDIF connection the CMA600i is also fully compliant with files up to DSD256 and PCM 384k/32bit over USB.
A separate pre-amplifier section
The Pre-Amplifier output is another shared feature of the Questyle Audio CMA800i and CMA600i. Many manufacturers, when designing an all-in-one model, use the headphone amplifier circuit loop to support the pre-amplifier output to reduce costs. To achieve the best possible sound performance, the Questyle Audio CMA600i is designed with a totally independent pre-amplifier.
10mm Thick Aluminium cover and bottom chassis
The Questyle Audio CMA600i's aluminium chassis is produced by Foxconn, using precise CNC tooling machines. The upper cover and bottom chassis "mutual bit" structural design, provides the Questyle Audio CMA600i with stable heat, excellent control of sympathetic vibration and excellent shielding from RFI/EMI radiation.
Performance
Power Consumption: 18W
Voltage: 100-120V or 220-230V Switchable
SNR-DAC/Preamp: RCA: >105dB; XLR: >121dB
THD+N-DAC/Preamp: RCA: <0.00082%; XLR: <0.00064%
Max Output Amplitude: XLR: 8Vrms; RCA: 4Vrms
USB Supported Kernal Stream: WASAPI, ASIO, KS
PC OS to Match USB Input: Win XP, Vista, Win7, Win8 and MAC OS
Signal: SPDIF input and output: Standard PCM 44.1k-192k/16-24bit
Sensitivity: 1.7Vrms
Frequency: DC-100kHz(+0, -0.7 dB); DC-200kHz(+0, -1.7dB)
SNR-Headphone Amp: 113dB
THD+N-Headphone Amp: 0.00057%@1kHz, Po=100mW,300ohm; 0.0034%@1kHz, Po=50mW,32ohm
Max Output Power: 220mW (8.1Vrms) @300ohm; 950mW (5.5Vrms) @32ohm
Gain: 13.4dB (4.7 times)
Physical
Dimension: 330mm(W)x300m(H)x55mm(L)
Electronics
Digital Filter True DSD Mode:
No Filter
Digital Filter PCM Mode:
Fixed Filter
Connections
USB: PCM44.1k/16-32bit and DSD64, DSD128, DSD256 following standard SACD format
Analog Output: Balanced (XLR) and unbalanced (RCA)
Input-DAC/Preamp: SPDIF input and output, USB Type B input
Output-Headphone Amp: Dual 6.35mm standard stereo jacks
Input-Headphone Amp: Internal DAC output, or External RCA input, switchable